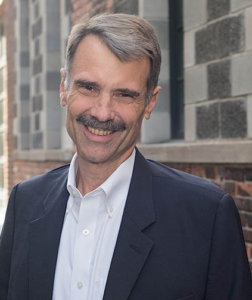 Mike Shesterkin is the General Manager of What's Next, LLC, a coaching and consulting practice that works with businesses and business leaders to realize their full potential and create sustainable, triple bottom line – people, planet and profit – value. Using proven models of continual improvement, Mike works with business leaders and their teams to develop strategies and implement action plans that build social capital, reduce negative environmental impact, and grow profitability.
Most recently, Mike worked to advance triple bottom line initiatives within the collision repair industry. A recent project included the production of a series of instructional videos used to teach secondary and post-secondary students about applying sustainable business practices to a collision repair shop. Other programs include a symposium to advance awareness of the roll automobile repair plays in the circular economy. Mike also led a project to implement shop-floor material storage and flow improvements at a Detroit area, high-end collision repair facility.
Leveraging his experience in quality systems development, Mike recently led a workshop to help an in-home care company improve its focus and efficiency. Using elements of Appreciative Inquiry, brainstorming and other team oriented systems improvement tools, the workshop led to a number of useful insights and programs for improvement.
Mike has also been instrumental in leading the turn-around and reorganization of the Southeast Michigan Sustainable Business Forum (SMSBF), a 501 (c) 3 non-profit that promotes sustainable, triple bottom line business practice within Detroit and the surrounding eight county region. Beginning in January, 2018 the SMSBF was awarded a grant by the Erb Family Foundation; as a result, the SMSBF is able to make marked improvements to its programming and its reach.
What's Next is also a business in residence at the Green Garage, a triple bottom line co-working community located in Midtown Detroit. As a member of the community, Mike is able to connect with those who are making a real impact on local, sustainable business practice.
As the General Manager of What's Next, Mike brings more than thirty years of chemical process industry experience. In his corporate career, Mike held various positions within the technical, sales, quality and senior management functions of the automotive paints and coatings industry, including both the automotive OEM and vehicle refinish segments. Mike's formal education includes degrees from Ferris State College and Lawrence Technological University; he holds a bachelor's degree in chemistry and a professional certificate in sustainable business from Aquinas College in Grand Rapids, Michigan.
To access Mike's LinkedIn profile, click here.